Play therapy - Working with children
© Silvia Camastral
In order to assess who will most benefit from counselling, I always see the parent or parents for an initial session. This helps the adults to discuss the situation and surrounding issues, without burdening the child. If the issue relates mostly to parenting, I will see the adults separately for counselling
Under "Play therapy' I understand a variety of playful methods:
Play is the language of the child. A child expresses much of his or her world through stories, drawings and playful re-enactment with toys.
Play therapy can include such activities as playing out scenes in a doll house, playing with stuffed animals and puppets, creating interactive scenes and stories with figurines in a sand box (sand tray therapy), role-play, creating fantasy stories, as well as drawing and painting images. Play therapy helps to create a safe space for children to process difficult emotions.
Through externalising emotions and re-enactment of problematic situations, in play, sometimes with figurines in the sandtray, emotional issues can transform and symbolic solutions can be found. Expressing emotions, and and changing past experiences in this way often helps children find their voice and build their natural self esteem.
Some issues where play therapy might help:
Case story:
A 6 year old boy was brought to me because he had been nightmares and asthma.
The boy was very shy and quiet at first, but he was interested in the collection of toy figurines I had on my shelf. I was told by his mother that he was "the quiet one at home" and his older sister was the loud and articulate one.
I encouraged him to just choose a few figures he liked and put them into the sand tray and maybe a we might together find a story of these figurines.
He chose a wizard, a queen and a magic fire breathing dragon.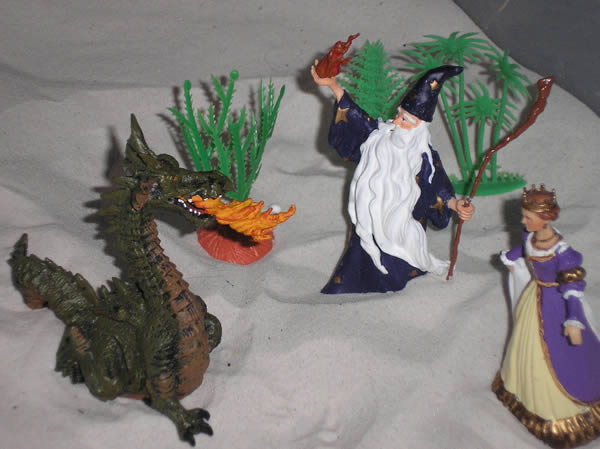 I was curious about each of the figures and eventually he started to tell the story of how the magic dragon came to breathe fire. Apparently he was quietly doing his own magic so as not to disturb the queen who wanted everything her own way. But after a long time of being quiet, the dragon got a bit angry, "puffed up his chest" and fire and noise came out of his mouth! Now everybody was very surprised about all that noise and fire - but eventually the wizard and the queen listened.
Together the boy and I made a few "fire noises" and he started to say some things he wanted to say while holding the dragon.
The magic fire breathing dragon helped him expressing himself more freely. In subsequent sessions we pursued what the magic fire breathing dragon would be saying in really difficult situations, and soon the boy who had a wonderful sense of humor, became expressive, funny and self confident.
Silvia Camastral Ph.D
Parents/Carers/Counsellors please download a PowerPoint presentation, giving you information on the counselling process and some of the play therapy/sand tray therapy approaches use with children.
For more information please talk to Silvia